PRIBINA CUP 2023 WINNERS
20M
2SEAT
Šibanc & Knez
Slovenia
Arcus T
1383 pts.
CLUB
Etienne Dollhausen
Germany
LS-1f
1673 pts.
15M
Jan Pavlik
Czech Republic
JS3 TJ 15m
1306 pts.
OPEN
Dierschke & Schwenk
Germany
Eta
1198 pts.
FAI International Pilots Rankings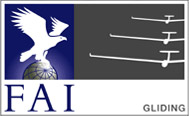 PRIBINA CUP NEWS
2023-04-15
17:38:18 (News from Epilogue)
This years 21st Pribina cup 2023 is in the end now and we would like to congratulate to all winners!
Club class: Etienne Dollhausen (GER)
15M class: Jan Pavlik (CZE)
20M Multi-Seat class: Anton Sibanc & Matic Knez (SLO)
Open class: Lorenz Dierschke & Uli Schwenk (GER)
2023-04-13
12:51:25 (News from Competition)
Due to the unpleasant weather forecast we have come to the decision to end the competition. We are very grateful you started the flying season with Pribina cup and we hope to see you next year. Good luck on your flying days, stay safe and enjoy gliding. The FAREWELL PARTY starts at 4 pm. PRIZEGIVING ceremony is scheduled for 5 pm.
2023-04-13
10:38:41 (News from Competition)
Good rainy morning. Due to the unfortunate weather forecast there is no grid today, briefing is scheduled for 11.00.
DAILY SUMMARY
2023-04-16
21st PRIBINA CUP 2023!
We would like to thank to you all for coming again to spend the Easter time and probably for most of you the first competition this season in Nitra, Slovakia. Our team is very glad that we could welcome many of you here repeatedly and the good news for us is that there were also many newcomers to our Pribina cup family. In total we have welcomed 92 participants coming from 12 European countries to compete in 4 competition classes. Even though the weather this year was not our best friend, we had a two valid competition days in all classes and some training flights before competition started. Tasks during this years competition were set in many parts of Slovakia, in mountainous North, moundy East and flatland in South. For many pilots it was a great experience to have flights in different areas throughout these days. As every year we tried to focus on Junior pilots and we are really happy that many of youngsters came again this year and had a great results in overall results :). The atmosphere was relaxed and friendly despite the weather, with plenty of time for networking, socializing and competition experience information exchanging. Lets hope following year will be more inclined to a better weather and we are all looking forward to see you next year again! :)
Big thanks also belong to our partner
SLOVAKIA TRAVEL
, who supported us during this years competition.