PRIBINA CUP 2019 WINNERS
20M
2SEAT
Simon Briel & Enrique Levin
Germany
Duo Discus
2977 pts.
CLUB
Mark Travner
Slovenia
DG 300
3322 pts.
15M
Tomasz Hornik
Poland
Discus 2a
3272 pts.
OPEN
Sebastian Kawa
Poland
Diana 3 FES
3406 pts.
FAI International Pilots Rankings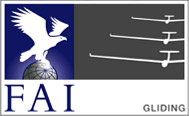 PRIBINA CUP NEWS
2019-04-27
15:01:08 (News from Competition)
The time is running fast and the 19th Pribina Cup is already a history by now. So, how it was? According to the pilots we had talked with, it was a nice and enjoyable competition. At the beginning the weather was better and had allowed us to fly to the Fatra and Low Tatras area for three days in a row with really nice thermals and great average speeds. Then the warm and more stable air had arrived and we had few days off and few shorter tasks in the southern regions. We were really pleased having you here - high number of great and skilled pilots. Thanks to all of you, as well as to whole our team which had made the "machine" perfectly working - from the grid, through the tasks, towing, kitchen and all we may even not be visible. We are looking forward to see you at the 20th Pribina Cup in the next year 2020.
Congratulations to all winners
Club class: Mark Travner (SVN)
15m class: Tomasz Hornik (POL)
Open class: Sebastian Kawa (POL)
20m class: Simon Briel & Enrique Levin (DEU)
2019-04-27
14:49:18 (News from Competition)
The prizegiving ceremony is over and so is the whole competition. Competitors are already packing and preparing for the move towards home or the other airports. For those who would like to settle up we are available in the Info Office till 4 pm.
2019-04-27
10:26:17 (News from Competition)
Day is cancelled for all classes due to bad weather conditions. Prizegiving ceremony will be at 12 pm in the hangar.
DAILY SUMMARY
2019-04-27
Last day
After the cold frontal system passed over our area in the night, the temperature dropped significantly, wind direction changed to NW and the sky was obscured by clouds. Therefore there was no grid and no task today. Prizegiving ceremony started at noon in the hangar where Pribina Cup was officially closed.
PHOTOS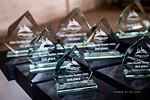 Day9 Price giving Ceremony
Show gallery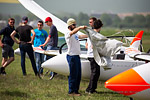 Day8 Starts
Show gallery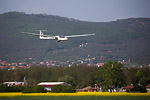 Day7 Landings
Show gallery
MESSAGE BOARD
You can write a message/greetings to your friend or your favourite pilot, make comments and discuss the event.